BLUE MOUNTAINS
&
CENTRAL TABLELANDS FISHING
A basic guide to fishing the Central Tablelands of New South Wales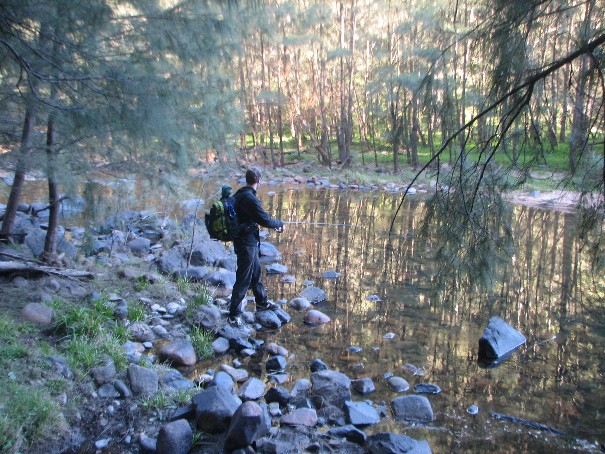 Gordon Willams fishing for trout in Cox's River near the Six Foot Track © Tim Williams
FISHING THE CENTRAL TABLELANDS
The Central Tablelands rise westward from the Nepean River near Penrith, just an hours drive from the centre of Sydney. The waters of the area are popular with trout fishermen and those who like to chase native fish such as bass, cod and yellow belly.

Central Tablelands region includes regional centres such as Lithgow, Oberon, Bathurst, Orange, Rylstone, Cowra, Mudgee and the City of the Blue Mountains.

The eastern water shed flows into the Hawksubury/Nepean river and the western rivers are part of the Murry/Darling river system.

The Central Tablelands are home to a number of pristine trout streams, as well as lakes well stocked with trout. The waters of the region are also home to a range of native fish species including Australian Bass and Mullet in the east and Golden Perch, Silver Perch, and Murry Cod to the west. Macquarie Perch, River Blackfish and Trout Cod are also found but are totally protected in all waters. Catfish are also protected but may be taken is some rivers and impoundments.

Despite the great range of native species, most fishermen who visit the Central Tablelands come to catch Rainbow and Brown Trout, and for good reason. Trout of the area can reach 6kg, with fish of 1-2 kg a very common catch, particularly in the lakes and dams. Fishing methods commonly used by anglers include Fly, Lure and Bait.

Other popular options for anglers include introduced pest species such as Redfin Perch and European Carp which are often found in impoundments and rivers of the region.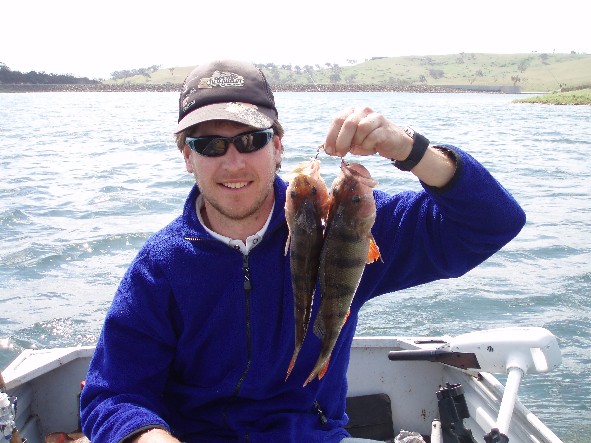 Two Redfin take a single lure at Ben Chifley Dam. Photo © Dave Brady
Fishable streams of the tablelands include the Kowmung River, Cox's River, Fish River, River Lett, Jenolan River, Cudgegong River, Farmers Creek, Little River, Duckmaloi River, Tuglow River, Campbell's River, Nepean River, Grose River, Kadumba River, Erskine Creek, and Colo River.

Lakes in the area include Oberon Dam, Lake Lyell, Lake Wallace, Thompson's Creek Dam, Wentworth Falls Lake, Lake Windemere and Ben Chifley Dam.

The streams and lakes of the Tablelands are subject fisheries regulations including general fishing closures, seasonal closures and other fishing regulations. Please contact the NSW DPI at Bathurst for information on fishing restrictions in the region.

The weather in the area can be varried with very hot conditions in summer and cold weather is possible at just about any time of the year.



Photo: Cox's River at Wallerawang Power Station © Tim Williams 2009

Thank you for visiting my website.

I hope you find the information provided useful.

Please let me know if there is anything else you think I should add (or update) to make the site more useful or user friendly.

Thanks

Tim Williams
Reports
Lakes
Rivers & Streams
Safety While Fishing
Fish Species
Fishing Tips
Rules & Regulations
Guiding Services
Rigs
Environment
History
Maps
Pictures
Weather
Links
Tackle Shop
Accommodation
Contact Us